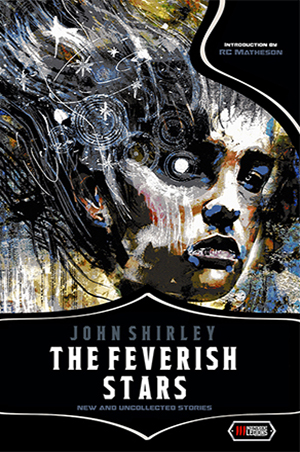 The Feverish Stars: New and Uncollected Stories
A collection of new and previously uncollected short stories from John Shirley. From the Introduction by Richard Christian Matheson: "In the brooding precincts of dark fiction, Byronic gangster John Shirley's writing is distinguished by swans and knives of style; divine menace. Twenty of his finest stories are gathered in this volume of poetic distress calls and whether horror, artful heresy, or a cosmos seeping bleak karma, Shirley's visions autopsy and awaken. Amid such torrents, the many addicted to his brilliance savor Shirley's work as sodium-pentothal and grace, ground zero of the real deal."
Collection
Trade paperback: 306 pages
Publisher: Independent Legions Publishing (2021)
ISBN: 978-8831959872
Ebook: 5508 KB
Publisher: Independent Legions Publishing (2021)
Available only on Amazon
Mario Guslandi for Monster Librarian
[A] hefty new collection, assembling twenty-one stories (two of which are previously unpublished). Most of the included tales are quite enjoyable and well worth reading, although I must admit that I'm partial to the dark fiction pieces..."Sebillia" is a superb story...in which dark family secrets are finally revealed, leading to a tragic ending. The very short "Nodding Angel" effectively portrays the unusual power of a peculiar angel appearing to a family's female members, while the quite original "Exelda's Voice" describes a GPS program—which is actually much more than that— taking an active part in the escape of a bank robber. "The Claw Spur," perhaps my favorite story in the volume, is an excellent Western about killing and vengeance, with a creepy supernatural side, graced by spectacular storytelling. The insightful "The Camera and the Rollercoaster" provides a proper ending to the collection, describing how a man riding a rollercoaster relives the various moments of his life while reaching his final destination. Recommended.
John Shirley on The Feverish Stars:
I think it's my best story collection since Black Butterflies—and that book won the Bram Stoker Award.