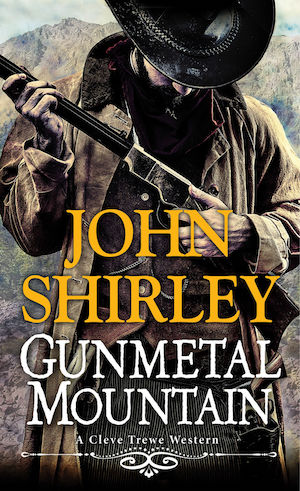 Gunmetal Mountain
(A Cleve Trewe Western Book 2)
The second in the action-packed new series John Shirley takes traditional Westerns on a wild ride with the epic adventures of master gunfighter, horseman, and Civil War veteran Cleveland Trewe as he—and his strong partner, Bernice—fight for survival in 1880s Nevada...
Civil War veteran Cleveland Trewe stumbles onto a bizarre cult in the Sierra Nevada mountains—where the faithful are healed and fates are sealed...in blood.
They say the road to Hell is paved with good intentions. But it's hard to know what's going on inside the twisted mind of Magnus Lamb, the charismatic leader of an isolated logging town known for its healing hot springs. Some might say he's created a peaceful utopia here on Gunmetal Mountain. But for Cleveland Trewe and his lovely traveling companion Berry, this little piece of heaven is more like hell on Earth
Cleve and Berry first discover the town after an encounter with a dangerous band of Indians. Cleve vows to find "the Coyote," a young brave last seen headed for the strange settlement of Lambsville. At first, Cleve and Berry are charmed by the town's natural beauty and simple way of life. But soon they see the community for what it really is: a brainwashed cult with some oddball beliefs, a rigid caste system, and a leader who thinks he's the new Messiah. This not-so-innocent Lamb has heard about Cleve's legendary gunfighting skills and wants him to lead an army to expand his power across the West. It's bound to be a blood-soaked mission, and Cleve wants no part of it. But if he refuses, there'll be hell to pay...
Novel
Mass Market Paperback: 352 pages
Publisher: Pinnacle (2023)
ISBN: 9780786049271
Ebook: 1 KB
Publisher: Pinnacle (2023)
ISBN: 9780786049288
Audio: 9 hours and 32 minutes
ISBN: 9798212387620
Publisher: Audible (2023)
Narrator: Traber Burns