Really, Really, Really, Really, Really Weird Stories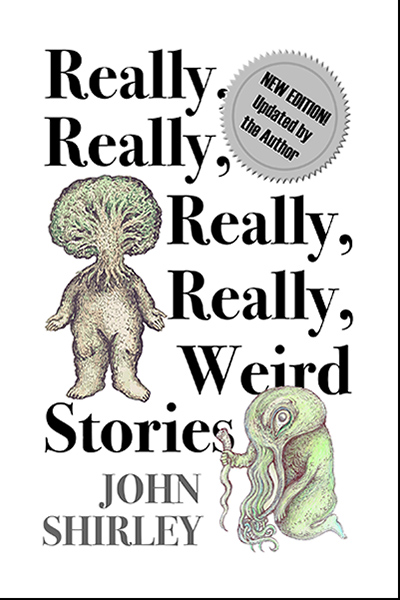 Collection
[The ebook is now available through Amazon, Barnes & Noble, eBooks.com, and elsewhere. A print edition is forthcoming from Jackanapes Press.]
John Shirley's Really, Really, Really, Really, Weird Stories slip out of the constraints of whatever labels have been been put to them—science fiction, fantasy, horror, suspense— and into his own very special, indefinable, extraordinary literary universe.
The original 2005 edition contained thirty-six stories. The 2021 ebook edition, personally revised by the author contains thirty-one. The 2022 print edition will contain one more story.
The stories are arranged in four sections:
Really Weird
Really Really Weird
Really Really Really Weird
Really Really Really Really Weird
The book gets weirder as it progresses.
It's whimsical title acknowledges that it is an exercise in something that is not likely to be a critical priority among literary pundits and academic soothsayers. It acknowledges there's a big element of pure fun in the concept. As the reader will discover, however, the broad spectrum and literary merit of the stories go far beyond sheer entertainment. This is coherent weirdness—weirdness that has internal logic and internal believability.
Starred Review from Publishers Weekly of the 2005 Edition
Really, Really, Really, Really Weird Stories

The 37 stories in this mind-shaking collection are grouped into four sections of ascending weirdness, from Really Weird to Really, Really, Really, Really Weird. Considering that the first entry, "I Want to Get Married, Says the World's Smallest Man", concerns a 28"-tall midget who weds a full-size, crack-smoking whore, to brutal effect, readers may rest assured that an unforgettable trip awaits them from cover to cover. But weirdness per se doesn't seem to be Shirley's aim, except insofar as outré subject matter (as in "Skeeter Junkie"", wherein the mind of a heroin addict enters the body of a mosquito) or prose style (e.g., the sentences of the potent and moving "Ten Things to be Grateful For"", as long and sinuous as anacondas) can wrench readers from their habitual frame of reference to experience the world afresh. The author...demonstrates throughout a fecund imagination, wicked sense of humor and thematic seriousnessregarding the malleability of reality, the hellishness of drug abuse, the fragility of human construct that render these tales as profound as they are sensational. Selected from 26 years of output, ranging from SF to dark fantasy to crime, drawn from books, magazines and a Web site (and with 10 entries never before published), the collection isn't all aces. But the majority of stories are, making this another virtuoso offering from a writer whose daring and originality continue to astonish.