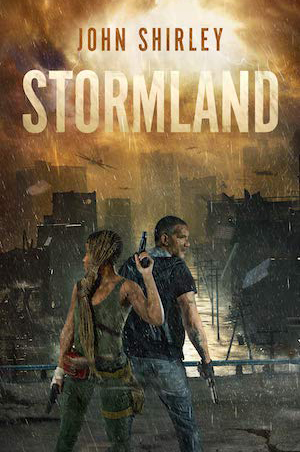 Stormland
They call it Stormland: a sprawling, largely abandoned region of the southeastern coast of the USA, where climate change's extreme weather conditions have brought about a "perfect storm" of perpetual tempests; where hurricane-strength storms return day after day, 365 days a year.
The heart of Stormland is Charleston, South Carolina, a flooded ruin where hundreds of people remain for their own peculiar reasons; where thugs prey on the weak, and a strangely benevolent cult tries to keep everyone insanely sane. Here, plutocratic evil takes advantage of Stormland's lawlessness to cultivate a weirdly puppeted theater of cruelty.
Swept into the turbulent vortex of Stormland is an unlikely duo—a former serial killer and a former US Marshal— who must work together to bring light to America's late twenty-first century heart of darkness. A cyberpunk detective thriller set in a maelstrom of climatic upheaval, classism, and corrupt power, Stormland paradoxically dramatizes the resilience of the human spirit.
Novel
Hardcover: 368 pages
Publisher: Blackstone Publishing (2021)
ISBN: 9781094017822
Ebook: 4454 KB
Publisher: Blackstone Publishing (2021)
ISBN: 9781094017846
Audio: 12 hours and 11 minutes (Unabridged)
Publisher: Blackstone Publishing (B08GFJ6L4F)
Narrator: Keith Szarabajka
With this gripping dystopian novel, Shirley extrapolates a grim vision of a late-twenty-first-century US wracked by climate change ... Howling super-hurricanes, grisly torture scenes, and the horrors of scientific experimentation on human brains make for harrowing reading. This is a sober warning about the seductive dangers of power.
Paul Di Filippo for Locus Magazine
Shirley evokes his battered, dangerous city very vividly, rendering the venue into something between Ballard's The Drowned World and Carpenter's Escape from New York. You can hear the groaning of the buildings' girders and the slosh of water and the howl of the winds...The characterization of all the major figures is intense, believable, and enticing...The fact that all the events take place on a very limited stage...and yet remains compelling, with one great action sequence after another, is testament to Shirley's storytelling skills, honed by decades of fine work. And he does not neglect to insert some tender, revelatory moments, too...this swampadelic adventure transmogrifies such realtime disasters as Katrina-flooded New Orleans into the stuff of speculative nightmares.
Mark Everett Stone for New York Journal of Books
A tightly paced, well thought-out cyberpunk thriller that entices after the very first chapter...Spare, no-nonsense prose...but with a cyberpunk twist that's all [Shirley's] own. It's a sort of cyberpunk noir mixed with a biting commentary on mankind's greed. Stormland is a big, sprawling read with plenty for just about everyone...
"A powerful and necessary story for these times."—Richard Kadrey, author of the Sandman Slim series
"Stormland is a headlong sci-fi thriller about the punk squalor of post-disaster situations. It's also got some remarkably interesting speculative technologies, so I'd say that Mr. Shirley is quite on top of his game with this one."—Bruce Sterling, editor of Mirrorshades: The Cyberpunk Anthology
"John Shirley's acerbic humor is a perfect match for his sense of doom and adventure. One of his best. Buckle in!"—Greg Bear, author of Blood Music and The Unfinished Land
"Set in a nightmarish future where extreme weather perpetually batters the coast,Stormland portrays human tenacity and ingenuity within a Hobbesian universe. John Shirley has created a vivid, hurricane-soaked canvas and a cast of memorable characters, none more so than a reluctant detective and a reformed serial killer who work in tandem to solve a series of perplexing crimes. A feat of dystopian imagination, Stormland cements Shirley's voice in the upper echelon of the cyberpunk genre."—Jon Bassoff, author of Captain Clive's Dreamworld
≈
John Shirley on Stormland:
The novel is a futuristic detective tale, a fusion of cyberpunk and "climate-change fiction", energized by a good deal of action and a perilous setting. "Stormland" is a colloquial term in the novel for a part of the southeast USA where it's constantly storming, bigtime, year after year, day after day, often very extreme hurricanes with only brief lulls between these major storms. The novel is set in what's left of Charleston, South Carolina, where only a small and highly stressed population remains, many of them people hiding in desperation in this highly dangerous place. Our main protagonist is a disenchanted former US Marshal who's now a private detective hired to go to Stormland—and getting there is difficult in itself. Once there he finds it difficult to escape the place. He ends up partnered with a very strange man indeed and discovers that the series of murders taking place in the storm-wracked town have a bizarre, repellent origin…A great deal more goes on and we learn about the odd and interesting people in Stormland, the near-apocalyptic state of the USA in a perpetual climate-changed extreme-weather crisis and how it all connects to a predatory elite…
One of the novel's characters is a former serial killer who has had his brain altered to cure him of being a psychopath. This is contrasted with the characters who have had implants surgically placed in their brains to control them.