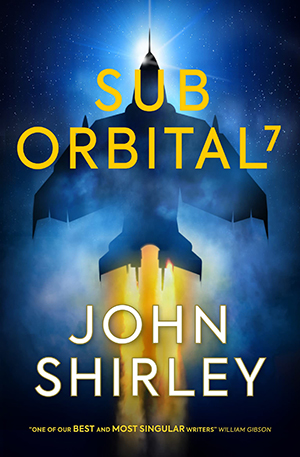 SubOrbital 7
A routine rescue mission leaves a team of US soldiers, rescued hostages and a prisoner trapped above Earth in a suborbital craft, in this cinematic action-packed near-future thriller, perfect for fans of Tom Clancy and Jack Carr
Lieutenant Art Burkett is called up to take part in a rescue mission. Three scientists have been kidnapped by the terrorist group Thieves in Law.
The rescue is swift. Art and his team return to military craft SubOrbital 7, intending to return to safety with hostages rescued and prisoners in tow. But Thieves in Law are not the only people looking for them. Art and his team must fight an ever-growing threat before time runs out for them, and possibly for the rest of the world.
Novel
Paperback: 336 pages
Publisher: Titan Books (2023)
ISBN: 9781803363820
Ebook: 907 KB
Publisher: Titan Books (2023)
ISBN: 9781803363837
This is the kind of book that gives military SF a good name.
Sure-footed descriptions of spaceflight and the toils of working without gravity enhance the plot without the technobabble ever pulling focus from the soldiers as they fight for their lives and honor. Shirley's fans will be pleased.
This is a tight military procedural for fans looking for something like Tom Clancy's Jack Ryan transported to space, with rockets flying, ruthless Russians scheming, and unvarnished trust in the American way.
≈
John Shirley on SubOrbital 7:
SubOrbital 7 dramatically describes technological tactics that may be necessary in orbital combat. The novel is extensively researched and contains considerable futurist prediction at a high level of confidence.