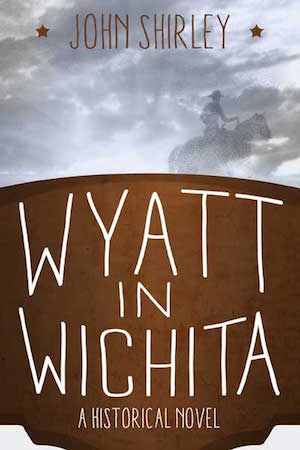 WYATT IN WITCHITA: A Historical Novel
Stemming from a true passion and interest in one of the Wild West's most indelible characters, Wyatt in Wichita is a thrilling read and an imagined glimpse into a seldom-seen side of Wyatt Earp and the untamed frontiers of America. Wyatt in Wichita fuses historical fact with fiction, following the adventures of the young Wyatt Earp. After the tragic loss of his first wife in the Missouri of 1870, Wyatt eventually makes his way to Wichita, where—by confronting corruption—he would eventually finally find his life's work as a tough lawman. Could Wyatt Earp have known Billy the Kid when the kid was really just that? Could Wyatt have met up with Wild Bill Hickok? Using the sparse trails of historical evidence, the lives of the famous and infamous intersect in Shirley's novel, which revolves around Wyatt's search—with Bat Masterson at his side—for the murderer of an innocent young woman.
Novel
Paperback: 320 pages
Publisher: Skyhorse Publishing (2014)
ISBN: 9781629143132
Ebook: 773 KB
Publisher: Night Shade Books (2014)
ISBN: 9781597805681
Audio: 9 hrs/56 mins (Unabridged)
Publisher: Audible (B00NGXIX9I)
Narrator: John McLain
Review by Francis Moul for the Lincoln Journal Star
Wild West fiction has a long history and a wide range of styles, covering what was a relatively few years in American history. The stories of cowboys and Indians, bandits and lawmen, Indian wars and the entire taming of the West have enchanted many millions of readers around the world.

This book gives us a gritty realism into the early years of one of the most famous true life characters from that Western era, Wyatt Earp. It is fully fictionalized with made-up dialogue and actions, but is deeply rooted in valid research into his lifespan, especially the tragedy of his wife's death that led to a time of despair and debauchery.

The novel is exciting, full of thrilling incidents and a good deal of speculation about Earp's acquaintance with other Western giants, such as Wild Bill Hickok and a teenaged Billy the Kid. Did Earp really know them and have adventures with them? The times and geography would suggest some interaction.

Wyatt Earp was more of a rogue and hero than many in his day. He ranged freely over the western territories, doing his share of hell-raising as well as keeping the peace as a lawman, showing an easy dichotomy of lives that often characterized the era.

John Shirley, the author, has experimented with many forms of fiction as well as delving successfully into the entertainment business with screenplays and television shows. However, he has had a longtime interest in Wyatt Earp and made that man the subject of his first Western book. It is a good one.
Review by David Agranoff for Monsterlibrian
Wyatt in Wichita is a novel I have been reading about for a long time. John Shirley, while known as both a horror and science fiction author, transcends genre in almost everything he writes, and I was intrigued to learn that he had been working on a historical novel set in the Wild West.

Shirley's fascination with the legendary lawman Wyatt Earp was the seed for this novel, which is based in solid historical research. Focused on a lesser known aspect of Earp's life, this novel is a fictionalized account of his search for the murderer of a girl from Wichita. Shirley uses the plot as a tool to explore Earp's character. While legend sometimes paints a black-and-white picture of Earp as a hero, or villain, Shirley uses shades of grey. While the novel has plenty of action, it is, above all, a character study.

While a historical novel is a departure for the writer whose stories were once called "Lollipops of Pain", Shirley delivers, with his intense view of the world expressed through this new setting and genre. His use of tiny details sets the tone effectively. While description can overwhelm a story and slow the pacing, Shirley's writing remains fluid. All the elements of a successful Western are here: period accurate action, engulfing natural landscapes that jumped off the page, and characters that made me a little uncomfortable.

Authors writing outside of their traditional genres often have trouble getting their readers to follow them. Wyatt in Wichita is an excellent choice to get readers to step outside their genre and try something a little different. This should be in any library with a serious eye to western and historical fiction.
Review (of both Doyle After Death and Wyatt in Wichita) by Steve Fahnestalk: "John Shirley—Between Genres (Always)" for Amazing Stories
...This book is written just as well as any Zane Grey or Louis L'Amour I've read; one gains a lot of sympathy for Earp who, as the reader will be able to tell, is just trying to make his way in a world that is often violent and unforgiving. Shirley uses fewer adjectives than Grey does; and he doesn't wax lyrical as often as L'Amour used to; the book is not only competent, it's exciting—one can't wait to see what happens to Earp next—and from time to time it's easy to think of this as a movie in waiting... If you like well-written Westerns, or just well-written novels, especially ones that give you a sense of the Old West, then this will be a book for you.
Review by Phyllis Morreale-de la Garza for >Cowboy to Cowboy
In this novel, readers of Western fiction will enjoy a look into the early life and times of Wyatt Earp. The author begins the story with the death of Wyatt's wife Urilla, who died in Lamar, Missouri in 1870. At this time, Wyatt was 22 years old. Following this traumatic event, Wyatt travels to various towns throughout Kansas, and even up to Deadwood in the Dakotas while deciding what to do with his life. Heartbroken, confused, short of cash and blaming himself for the dearth of his wife, he runs into a variety of people both good and bad, who shape his future...

The challenge for author Shirley, himself obviously a Wyatt Earp fan, was to keep readers turning pages even if they did not always agree with the author's assessment of certain situations. Shirley is an experienced and clever writer who is able to keep the story moving forward by his good descriptions of life in the Old West, plus, he includes glimpses of other famous Western characters such as teenage Billy the Kid whom Wyatt tries to steer in constructive directions. Billy tags along with Wyatt throughout most of the book, and we see glimpses of his character as the young man struggles between right and wrong. He tries listening to Wyatt, but we can see a dark side to Billy that we know will eventually erupt in Lincoln County, New Mexico.

Meanwhile, to keep the reader guessing, Shirley has Wyatt involved in solving the murder of a beautiful young woman found strangled in his sister-in-law's brothel. Bessie Earp, a madam in Wichita, is married to Wyatt's older brother, James.

The story includes good descriptions of towns bustling with saloons, card games, buffalo hunters, peace officers and others who lived in these frontier settlements. Wyatt plays cards, gets into personal disagreements, and makes friends with the likes of Bat Masterson. Even Wild Bill Hickok and Calamity Jane put in brief appearances.

Trying to earn a living, Wyatt does wood cutting, law enforcement, riding shotgun for Wells Fargo, and even does a bit of gold prospecting. He stays in touch with his brothers and meets the difficult Mattie Blaylock who will eventually follow him to Tombstone, Arizona. While Mattie fawns over Wyatt now, she will eventually become a thorn in his side. However, this book does not get into the Tombstone part of Wyatt's life. This story ends with him still in Kansas, trying to figure out where he will go next. Perhaps another Wyatt Earp story by this author will be forthcoming as a sequel, but don't look here for the shootout at the O.K. Corral.

If you enjoy Western fiction filled with guns, card games, bad guys, peace officers and fast rides, you will like Wyatt in Wichita. Wyatt in Wichita is entertaining and fun in the tradition of historical western fiction. Shirley is an experienced storyteller who knows how to spin a good yarn.
Goodreads Reviews
Nothing short of a masterpiece. John Shirley, one of the founding fathers of the cyberpunk literary genre, turns his considerable talents to the Wild West in this blend of historical fiction and fact. This is the untold story of a young Wyatt Earp, before Dodge City, before Tombstone, and before the legendary gunfight at the O.K. Corral. As frontier fiction, it's right up there with the best of Larry McMurtry and the early westerns of Elmore Leonard. As historical fiction, the story weaves it's way across the territories from Wichita to Deadwood, crossing paths with well known figures like Bat Masterson, Wild Bill Hickok, Martha "Calamity" Jane Cannary, Charlie Utter, and many others, bringing them to life as never before. The novel is dark, but uplifting; unflinchingly violent, but heartfelt. Shirley's decision to use a period voice even in his omniscient narration was bold, but flawlessly executed. It's also a thrilling, action-packed, rip-roaring tale, well told. Don't miss it!

≈

Wyatt's story is part mystery, part historical fiction, all western. He's the flawed, badass, poker-faced, don't-take-no-shit lawman that every Western aficionado secretly wishes to be. The man who hates unfinished things. Shirley writes him well, and establishes a great tension between Earp and the megalomaniacal laird Pierce, along with Pierce's murderous hired gun, Johann Burke, which results in an intense, satisfying resolution that doesn't hesitate to look closely at the grisly reality of violence. A great read

≈

Part conjecture, part history, this book paints a vivid picture of Wyatt Earp, a restless but courageous man. The story begins slowly but soon heats up, and we meet a number of legendary law (and lawless) Western characters. If you enjoy historical fiction, I reckon you'll like this book.

≈